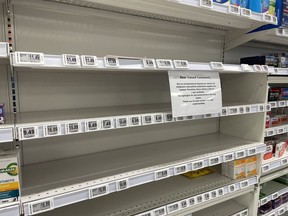 Cough and cold medication shortage to end next year, pharmacists association says
Children's Tylenol returning slowly to retail outlets in town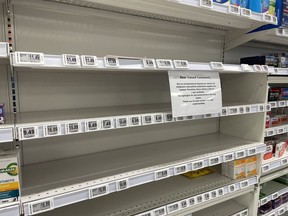 Article content
Parents with sick kids might be able to take a break from crushing adult Tylenol and mixing it with apple sauce if they hurry quickly to a local pharmacy.
Article content
Children's Tylenol (acetaminophen) in liquid form began arriving at retail outlets in late November, but in such limited quantities that pharmacists are keeping them behind the counter and limiting them to one bottle per customer.
A Shopper's Drug Mart pharmacist The Daily Press spoke with on Tuesday wouldn't say how much they'd received but advised to hurry while quantities last. A Rexall pharmacist is only selling children's Tylenol to parents with sick kids, not to those just preparing for a rainy day.
Adam Chappell, owner and pharmacist at Parma Right in The 101 Mall, told The Daily Press he was expecting nine retail-sized bottles of children's Tylenol last Wednesday, which he also planned to keep behind the counter and limit to one bottle per customer.
Article content
He predicts that more will become available, but that there will be extended shortages in the short term. Pharmacies are being allocated small amounts by the manufacturers, to spread out supply.
The shortage makes it difficult for parents to control fevers in their children, leading to more doctor visits, he said.
"We had more public health measures in place with COVID, so we had 1½ to two years where we really didn't see much influenza or common cold," said Chappell, whose independent pharmacy opened in November.
"So now we're seeing everything all at once because we're now socializing more. It's that time of year, so we're starting to see more influenza, cough and colds and COVID is still circulating. I think it's a combination of higher use and some lingering logistical issues."
Article content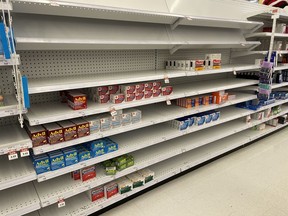 A children's drug shortage began in the spring and worsened in the summer when an early onset of flu and respiratory syncytial virus was made worse by COVID-19, which presents as a cold. Parents began stocking up.
When local manufacturers could not keep up with demand, Health Canada arranged to import supply from the United States and Australia, whose first shipment in early November went straight to hospitals, in part because the labels were not bilingual, Postmedia reported.
Health Canada has authorized 500,000 bottles of imported children's acetaminophen for retail to arrive in December, and domestic supply is starting to recover, Jen Belcher with the Ontario Pharmacists Association told The Daily Press in a telephone interview.
Article content
"The demand really hasn't abated, and manufacturing really hasn't been able to keep up from a straight capacity standpoint, rather than a supply interruption with a lack of ingredients," she said, when asked to respond to a claim by the German pharmacist's association.
That organization asserts pandemic lockdowns in China are blocking exports of the raw ingredients used for medications, Postmedia reported Nov. 16.
If lockdowns in China continue, however, she conceded it could interrupt the ingredient supply in the long-term.  There is also a global reliance on India for the raw ingredients used in over-the-counter medication.
Canadian manufacturers can tap various international suppliers if approved by Health Canada, Belcher said.
Article content
Children's Advil (ibuprofen), an anti-inflammatory, continues to be in short supply in pharmacies, but available in hospital. Neither Belcher nor Chappell has heard reports of Health Canada planning to import it for retail outlets.
Adult Tylenol and Advil remain plentiful.
Chappell recommends that parents speak to their pharmacist to determine a dosage of adult pills based on the child's weight and symptoms. They can be crushed and added to yogurt, apple sauce or chocolate syrup.
If parents can wait a few days for the package to arrive, they can order a supply for their child from a compounding pharmacist, who is qualified to make custom medications including liquid formulations. There are several compounding pharmacists in Sudbury, but none in Timmins.
Article content
Adults in Timmins who have come down with a cold or flu lately may also have been surprised to see empty shelves in the adult cough and cold section of their local pharmacy.
"When it comes to cough and cold medication for both adults and children, we're not seeing an imported supply of those. Those are short and have been for quite some time due to this high level of demand, small amounts have been trickling through the supply chain but it hasn't been enough to keep up with demand," said Belcher.
She expects the adult cough and cold medication shortage to end sometime between January and March, 2023, just in time for the end of flu season.
A quick check of the adult cough and cold section of four downtown pharmacies on Tuesday showed partially empty shelves, but there was still a variety of medication to choose from.
Belcher said pharmacists have lots of experience finding alternatives for patients, if necessary.
"While the over-the-counter medications in short supply are the most visible representation of the challenges to our supply chain, pharmacy teams have been managing very high levels of drug shortages, some critical, where there are really few or no alternative options," she said, adding that up to 20 per cent of the team's day is spent managing shortages.