Helping Liv to live | Waukesha County News
MUSKEGO — Olivia Stoop, or "Liv", of Muskego just turned 3 over the weekend. The little girl resembles the character of Cindy Lou Who from "How the Grinch Stole Christmas," with her blonde locks, big beautiful eyes and sweet demeanor. On Wednesday her mom Erin was busy trying to put away unopened presents. Olivia would rather give presents than open her own, according to her mom. She loves her baby dolls, CoComelon, books and sensory toys. Olivia is in day care and loves her friends there very much. When her family sings "Happy Birthday" she takes out their name and puts in one of her day care friends' names.
"When we sing the Barney song 'I Love You,' she adds in one of her daycare friends. For some reason that song made it into our house," Erin said.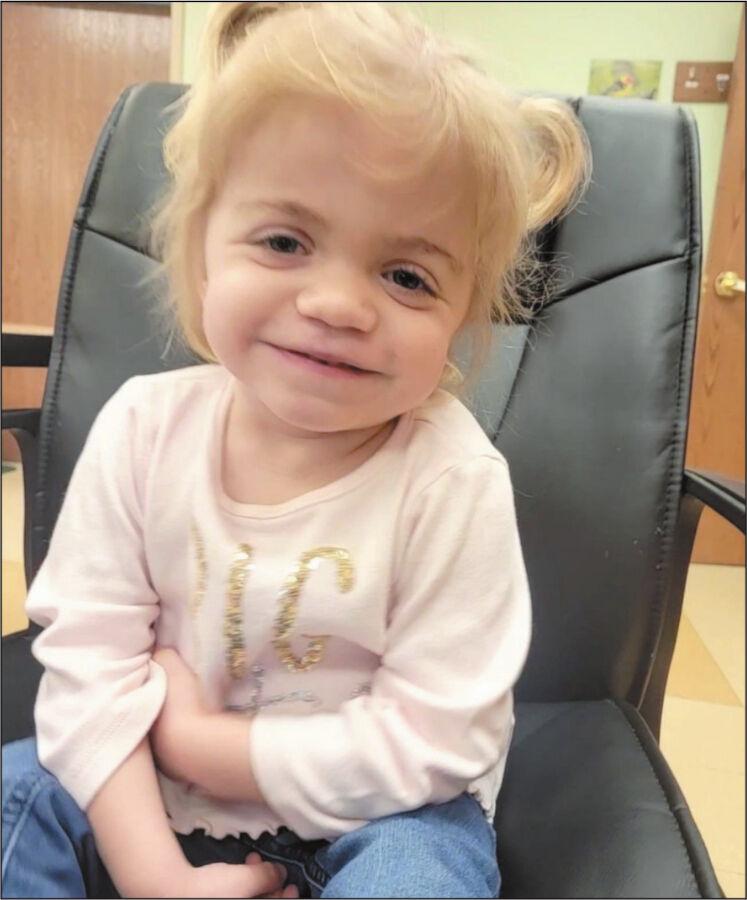 There was a fundraiser over the weekend with many birthday presents for the little girl. It was to help Olivia's family raise $1 million to fund research that could lead to a clinical trail for children like her with a rare disorder. The goal is to allow Olivia, and others like her, celebrate more birthdays.
In March Olivia Stoop was diagnosed with Sanfilippo syndrome. It is a rare genetic metabolism disorder. A change in a single gene makes a child's body unable to break down certain sugars. This leads to serious problems in the brain and nervous system. There is no cure yet for Sanfilippo syndrome and children with it live up to their teen years. The disease is like Alzheimer's in children.
When Olivia was 9 months old, Erin and her husband Tyler noticed their daughter's head was unusually large. Olivia had a brain MRI but everything was normal. She had ear infections and other illnesses but the couple were told it was normal for kids to get sick. After she was a year old she had tubes put in her ears. Olivia also had an umbilical hernia.
"She was on antibiotics a lot. She had chronic loose stools. We thought it was the antibiotics," Erin said, The couple tried to change Olivia's diet with probiotics and easy-to-digest foods.
"This is what our pediatrician was saying but it didn't seem to really help," she said.
At her 2-year checkup, Olivia still had loose stools so the pediatrician ordered blood and stool tests. At first Erin and Tyler thought maybe their daughter had celiac disease or something similar.
"Some of her liver tests were quite elevated. Her stomach is distended. They said she had a larger liver than what would be expected in a 2-year-old," Erin said.
The doctors thought perhaps there was some blockage but Tyler went into papa bear mode and said no, according to Erin.
It was recommended Olivia see a geneticist, who diagnosed her with Sanfilippo syndrome, Type B. The disease is 100% fatal and there is no FDA treatment or cure.
Olivia can't fight infections very well and it starts with medical issues such as those she experienced.
"It leads to behavioral things where she will start slowing down. She is already well behind on her speech. By 6 or 7 years old kids lose their speech and later they will lose their ability to eat by mouth and need feeding tubes. They will lose their ability to walk. Most are on seizure meds. The life expectancy is mid to late teens," Erin said.
The couple partnered with the Cure Sanfilippo Foundation, which funds research and clinical trails. They are trying to raise $1 million for research that could lead to a clinical trail for children with the rare disease. The foundation looks at gene therapy trials and research and enzyme replacement.
"It's really complicated and expensive therapy that there is not a lot of drive for drug companies to look into because there isn't a big market. A drug company would want to pursue a diabetic or cholesterol medicine," Erin said.
The mom said there are a couple of drug companies that focus on rare diseases, which the foundation has partnered with.
"There have been several clinical trials for Sanfilippo syndrome but they kind of come and go. Depending on the market or shut down if they don't see enough improvement," Erin said.
She has heard of parents who did the trial and the children benefited from it but the trial abruptly stopped. Erin said that is more heartbreaking than never getting a trial.
Erin said another issue is some kids aren't diagnosed with the rare disease until it is too late.
"The further they are in the disease the less likely are to be a good candidate for a drug trial. The drug company wants to show its ability to stop the progression and if the kid has already progressed significantly, it is harder to show that," Erin said.
Making a stand
Erin and Tyler Stoop didn't want to sit back and do nothing. They decided to try and raise money and awareness of the disease. A video called "Saving Liv" was made about the couple's journey and showcases Olivia.
"We didn't want to be told there is nothing you can do and start taking videos and pictures of her. This is something we can focus on and it is like a light in a dark tunnel," Erin said.
Erin has found plenty of support from moms on Instagram and other social media platforms. There are many parents sharing their children's diagnosis and stories. It is their hope other parents will get their children diagnosed earlier. "They are sharing what they experienced and struggled with to help other parents that might be in a similar situation and get those kids diagnosed early to get into a trial earlier," she said.
Enjoying every moment
Erin spoke of some challenges, such as her daughter only being able to speak with one word at a time. She understands the disease will likely progress but she is hoping to give more quality of life for Olivia.
"If I could have more years with Olivia before she completely loses her speech or before I need to carry her everywhere, that is priceless to me," Erin said.
She wants her daughter to be 100% cured of the disease, but if that is not an option, she will take that second one.
"The FDA has such high standards for approval. That is why these clinical trials stop because they don't meet these high standards. We are advocating for … we will take anything," Erin said.
"I know the future and if there is anything I could do to stop it, I would," she said.
For more information and how to help visit https://curesanfilippofoundation.org/.