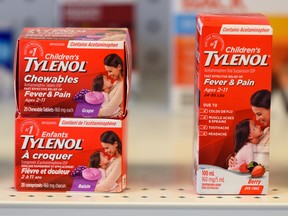 On pharmacy shelves, children's medications have disappeared
"If people see it on the shelves, they're taking a few bottles because they're stocking up. That's making the shortage worse."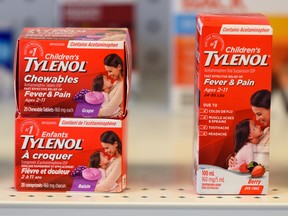 Article content
In the children's medication section at the Feldman and Messias Pharmacy in Côte-St-Luc, the shelves are bare with the exception of three boxes of children's Advil. All other ibuprofen medications used to combat fever and pain, along with acetaminophen products like Tylenol, are sold out.
Article content
It's the first time in Sandra Messias's 26-year pharmaceutical career she's seen such a shortage in children's medication. Her store has been ordering as much as they can, but with pharmacies across Quebec and Canada suffering similar deficits, pharmaceutical distributors are limiting deliveries to ensure equitable distribution in all regions.
Article content
"If people see it on the shelves, they're taking a few bottles because they're stocking up," Messias said. "That's making the shortage worse. Normally a parent would have one bottle in the house."
Messias keeps a supply of liquid Tylenol behind the counter to serve customers with acute needs.
"Parents are anxious," she said. "Very anxious and desperate."
At the Pharmaprix in Montreal West, children's medications are gone and the demand has begun to eat into adult supplies of Tylenol, Advil and cough medications, manager Francis Nadon said. For some maladies, the only medications left are homeopathic remedies.
Article content
"It's like the toilet paper situation at the start of the pandemic," he said. "When we have stock, everyone's buying. And even this summer, people have been sick, so we never get caught up, we're always behind."
Pharmaceutical drug suppliers say an extended viral season has doubled the usual demand for children's medications and is to blame for the shortage that dates back to July. Typically demand for pediatric ibuprofen and acetaminophen peaks in the back-to-school months of August to January and then drops.
"What we're seeing this year is the high demand we're used to seeing in the fall has maintained throughout the entire year," said Hugues Mousseau, director of the Quebec Association of Pharmacy Distributors.
Article content
An increase in viral activity and the dropping of mandatory masking in classrooms and public transportation are believed to be behind the increase in infections.
In response, manufacturers have now doubled their production, Mousseau said, but the increase in demand means suppliers are working on a "just-in-time" delivery service, with products being snapped up as soon as they hit the shelves.
The shortage is not due to a global lack of ingredients to create the drugs, Mousseau said. He dismissed theories that supplies from abroad have been slowed by the obligation to print bilingual labels and instruction manuals, saying manufacturers have shown they are able to produce bilingual materials quickly when needed.
Article content
Similar drug shortages have hit countries like France, Israel and Pakistan. But Canadians are noticing shelves of pharmacies in the United States are filled with children's Tylenol and Advil, leading some to accuse Health Canada of not doing enough to ensure dependable supply chains from abroad. Canada is importing ibuprofen from the U.S. and acetaminophen from Australia to supply hospitals, the National Post reported, but it won't go to pharmacy shelves.
With the spread of respiratory syncytial virus (RSV) starting to accelerate, and flu season coming soon, needs are expected to increase. There is also a shortage of liquid versions of amoxicillin, a widely prescribed antibiotic used to treat ear infections, pneumonias and bronchitis in children, although other versions of the drug are being produced. There are worries the drug shortages are partly responsible for ER overcrowding seen nationwide.
Article content
Thanh Thao Ngo, pharmacist and interim assistant to the chief of pharmacy at the Montreal Children's Hospital, said suppliers have told them viral diseases dropped precipitously during the pandemic because children were staying home from school, wearing masks and washing hands.
"So production of medications was reduced because there wasn't really a need for suppliers to make more, because we were using less of it, for a good two years."
Then during the spring and summer viruses came back so quickly suppliers were not able to meet the requirements, she said.
Because hospitals are first priority, they continue to receive the needed shipments, Ngo said, but some liquid formulations have been in short supply. To make up for the lack, pharmacies are prescribing children-size doses of medications normally used for adults.
Article content
For children so young they cannot swallow pills, pharmacists will make special formulas by crushing tablets and mixing them with a syrup or paste that can be administered to very young children.
Most pharmacies, Ngo said, will reserve some of the drugs behind the counter to be prescribed to patients, so parents who see empty shelves should speak directly to a pharmacist.
Every pharmacist has a different supplier contract depending on their needs, so parents might have to shop around, she noted. And because pharmacies are suffering the same labour shortages as everyone else, having specialized formulas made up might take time.
"It's important to stress that the medications are still available, but there just might be a different way to administer them," Ngo said. "Many parents are very scared, especially now that it's coming out in the media. There is access to the medications, but it might not be as easy as we are used to."
Canadians crossing border to get children's Tylenol is latest symptom of drug supply 'mess'

Health Canada warns of a shortage of certain antibiotics for children